Sakura Tango Festival 2023

- Abrazo de Asia -
The dates for 2023 will be defined!
Last year, the Sakura Tango Festival was held for the first time in three years by limiting participants to domestic residents.
Next time, in 2023, we are currently planning and preparing, hoping that we will be able to do "abraso" again with overseas tango fans.
In the future, we will announce you about the invited masters, artists, programs, etc. as soon as they are confirmed, so please keep your schedule open.
---
April 6
th (Thu.)

to 9

th (Sun.)

, 2023

NISHITETSU HALL | TIEMPO HALL

Tango Passion Blossoms in the East

Enjoy four days of workshops, milongas and after parties featuring inspiring artists and marvel at the beauty of Japan's cherry blossom season.
Venue • Access
About a 10 minute on foot between two festival venues, NISHITETSU HALL and TIEMPO HALL.
NISHITETSU HALL
6º SOLARIA STAGE, 2-11-3 Tenjin, Chuo-ku, Fukuoka 810-0001
092-734-1362 / Google Maps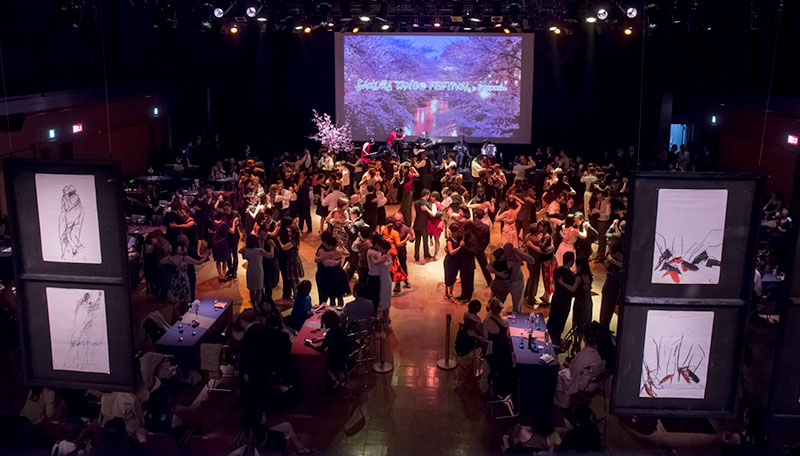 Located in Tenjin, the center of Fukuoka city. Direct access from NISHITETSU BUS CENTER and NISHITETSU FUKUOKA (TENJIN) train station.
The Hall is equipped with an excellent PA system, perfect lighting, and a wooden floor fit for tango dancing. The floor space for dancing is spacious, with a total hall space of 500m² and a ceiling more than 6m high, so everyone can enjoy dancing tango together!
Dining Event Space

TIEMPO HALL
3F Daimyo11511 Bldg., 1-15-11 Daimyo, Chuo-ku, Fukuoka 810-0041
092-762-4100 / Google Maps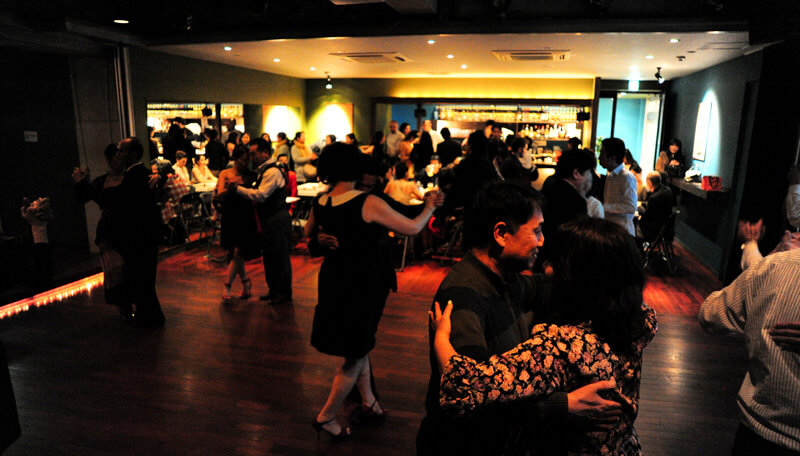 Located in Daimyo, next to Tenjin.
Daimyo is very convenient and lively area. Workshops and milongas are held in this venue.
TIEMPO HALL is our home, were we will hold all workshops and seminars, and all After Milongas.
It has a great and reasonable restaurant on the 5th floor and a fantastic terrace that also will held some of the activities.
What's
Sakura Tango Festival

?
The SAKURA TANGO FESTIVAL, to be held for three days in cherry blossom season, will be a great opportunity for people all over the world who love tango and who are interested in tango to enjoy this international exchange.
Argentine tango was born over 100 years ago, and it came to be known outside of the country. Mostly people appreciated the beauty of tango by listening to the music and watching the dance performances at the theatre as a form of art until about 50 years ago.
However, the tango scene has since developed greatly during the past 20 years, and now people around the world enjoy tango as a way to communicate as well.
Tango has grown from "art in the theatre" to "a communication tool in dancing circles."
Since the tango was registered on the UNESCO World Intangible Cultural Heritage List in 2009, it has become even more popular. Tango festivals are now held all over the world, including Taiwan, Indonesia, China, Russia, Korea, the United States, Canada and Finland. In spite of the differences in culture and custom, tango fans from the all corners of the world visit these places and enjoy communicating through their common language of dance. Tango has been connecting people beyond the differences of race, nationality, culture and generation.
Since our establishment in 1997, we have been a pioneer in introducing tango as a non-verbal communication tool in Japan. Although many people are fond of dancing tango now, in Fukuoka, the gateway of Asia, it was the first time such a great festival has ever been held, that a great many tango fans got together from all over the world. 
We are looking forward welcoming you in Fukuoka.
Contact
General organizer: NPO TIEMPO Iberoamericano

3F Daimyo11511 Bldg., 1-15-11 Daimyo, Chuo-ku, Fukuoka 810-0041
Email:
sakuratangofestival@tiempo.jp
Weekday: 12:00 - 22:00
Weekend and National holidays: 12:00 - 18:00
Inquiry form
This inquiry form is adopted security systems SSL (Secure Socket Layer).